I'm not really a very good cook. I don't use spices well and I get frustrated when things go wrong, and bored when things go right. I'm working on it, mostly by helping Peanut, who's a very good cook (and an EXCELLENT homemade pizza chef -- he makes everything from scratch--sauce, dough, the whole nine yards).
But I got two cookbooks that might help --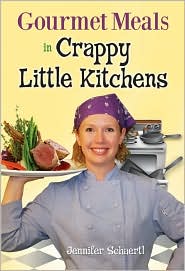 I got an early copy of
Gourmet Meals in Crappy Little Kitchens
and I'm so excited about it. We seriously have a crappy little kitchen--galley size, with a weird old-fashioned stove (it has a cabinet in it. Seriously, who puts a cabinet in an oven--everything in it gets hot!), a fridge that sometimes defrosts itself, and cabinets too tall for me to reach. So a cookbook that recognizes that I may not have a stand mixer or a dozen mixing bowls or even a normal-sized oven is fabulous. In addition to really delicious looking recipes, there's a whole section of advice about space-saving devices, stuff you really don't need, and pantry must-haves, even in a small space. At some point, I'll actually have time to MAKE one of these recipes, and I'll let you know how it goes.
The second cookbook is one that I actually got a while ago--several months, if I remember correctly. Oops. It's the
Eat Well, Save Big
cookbook put together by AllYou magazine, and how cool is this, it's got coupons in it! AllYou has some connection to WalMart, but the cookbook is useful regardless of where you shop (there are no Walmarts in New York). The biggest selling point here is that the meals are all under $2.50 a serving--that's huge! The recipes look really easy and the photos look REALLY tasty. Again, as soon as I make a recipe out of this book, I'll do a review of it here.
Disclaimer: this post is not sponsored. I did receive copies of these books for free from the publishers, but it was not contingent upon a review--I think they both look useful, and I do plan to use them. And I have every intention of becoming a better cook, even though Peanut will probably always wear the apron in this family.